Incredible power, features, and efficiency come together in one of our most versatile systems ever.
A potent weapon in your company arsenal

The System 5000 is a commanding excavation tool — the only one you'll need for underground utility location, repairs, maintenance, and installation. It uses intense air power to penetrate, expand and explode the soil from within while keeping it dry for easy vacuuming and quick backfilling. It's versatile and adaptable and offers high maneuverability with solid performance. It's dynamic in its many uses and is economical to operate—do more work in less time, anywhere.
Power with a purpose

The digging speed of the SYSTEM 5000 is substantially faster than the SYSTEM 4000, with only a negligible increase in overall size. The 5000's high-intensity, supersonic compressed air is a solid performer in rock-hard soils, second only to our largest system, the boom-equipped SYSTEM 6000. Dig a pothole of any size in record time or open up larger areas for installations, maintenance, or repair.

Easy to operate and user-friendly, this system has a full-opening rear door, so backfilling is fast and efficient. Its modest size and well-designed built-in, easy-access storage allows a two-man crew to set up for digging quickly and stow equipment away in minutes when the job is done. The SYSTEM 5000 makes sense both operationally and economically. Power means performance; performance means profit.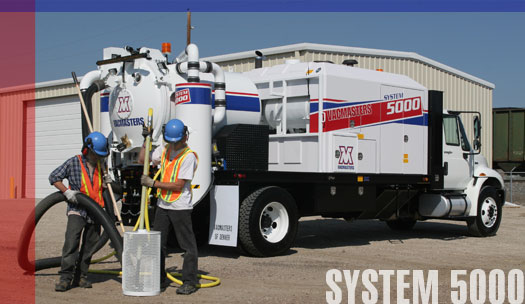 SYSTEM 6000 Benefits
AIR-VACUUM EXCAVATION EFFICIENCY

Eliminates need to continually transport and dispose of mud spoils and replenish water supplies
Spoils stay dry for fast, efficient backfilling
More time spent on the job means reduced job costs and increased revenues and profits

AIR-VACUUM EXCAVATION SAFETY

Unlike water, a non-compressible fluid that can cut or otherwise damage utilities, air is compressible, won't damage utilities and is non-conductive
Water is conductive, making it especially dangerous around buried electrical utilities—air-vacuum excavation makes injuries and damage claims much less likely and results in increased revenues and profits
Air won't damage the road base and won't spread contamination plumes.

POWERFUL 250 H.P. ENGINE AND 350 CFM/250 PSI AIR COMPRESSOR

Potholes—and trenches—faster than ever before in difficult soils, performing more work in less time
Reduces job costs, increases revenues and profits

POWERFUL POSITIVE DISPLACEMENT BLOWER RATED AT 1866 CFM @ 15" HG

Top-notch vacuum performance for potholing and trenching spoils as well as directional boring slurry
5" vacuum hose for fast, efficient vacuuming in all soil conditions
Faster vacuuming means reduced job costs and increased revenues and profits

THREE-WAY HYDRAULIC-POWERED VACUUM HOSE BOOM

Faster, easier and SAFER operation with wireless-remote-operated boom
Reduces job costs and injuries, increases revenues and profits
Allows operator to effortlessly vacuum spoils created from potholing and trenching

HYDRAULICALLY POWERED, FULL-OPENING REAR DOOR

High performance UHMW polyethylene spoils tank liner promotes faster, easier emptying of spoils
Saves time, reduces job costs, increases profits

SELF-PURGING FILTRATION SYSTEM

Reverse-flow air automatically cleans the system filters
Greatly reduces maintenance and downtime, increasing production and profitability

FAST-ACTING INTERCEPTOR CANISTER

Rear-mounted canister collects soil and hydraulic dump door quickly dispenses it for fast, easy backfilling.
Saves time, increases production, reduces costs and increases profitability
Keeps dry and wet spoils separate

SINGLE-ENGINE DESIGN

Powerful John Deere turbo diesel engine drives all systems; vacuum, air and water
One engine to maintain reduces maintenance costs and increases profitability

WORLDWIDE FACTORY WARRANTY SERVICE

Authorized VACMASTERS service facilities are available worldwide
Fast, efficient factory support reduces downtime, increases production and profitability

REMOTE OPERATION

Operate up to 200 ft. away from the system for jobs offering difficult access
Reduces costs, increases production and profitability
Optional Barrel-Top Interceptor keeps spoils right at the site for fast, easy backfilling

WELL-DESIGNED TOOL AND EQUIPMENT STORAGE

Crossbody and underbody storage boxes and compartments provide plenty of space for transporting and storing tools and equipment
Convenient jackhammer and tamper storage areas
Eliminating support vehicles reduces costs and increases profitability

DEDICATED COMPRESSED AIR SUPPLY WITH AUTOMATIC OILER FOR AIR TOOLS

Eliminates the need for a separate air compressor
Reduces costs and increases profitability

ACRYLIC URETHANE PAINT

High-quality paint combined with bead blasted metal surfaces means fast, easy clean-up and a machine that will look good for years.
Our Promise

When you invest in a VACMASTERS Air-Vacuum Excavation System, we promise to go above and beyond what you would customarily expect and provide you with unmatched customer service and support throughout the life of your system! We take great pride in assuring our customers' satisfaction — from their initial phone call, to the delivery of their system. With every order, we will send one of our trained technicians to your location to spend two days working with your people, training them in the operation and maintenance of your new VACMASTERS system.

One of our customers was so pleased with his experience with VACMASTERS that he felt compelled to leave an anonymous voice-mail after hours. Here is what he had to say: "…Just over a year ago we purchased a SYSTEM 4000 from VACMASTERS and it has far exceeded everyone's expectations. On top of that, your customer service has been top notch… We would recommend you to anybody."

We strive to make sure every customer feels this same way. Most importantly, we are here when you need us and are only a toll-free call away for sales, support or service.



The VACMASTERS range of systems are available in New Zealand.
Contact Paul Herbison on 027 290 8306 or Freephone 0800 278742 - or send him an email
Please note: Images on this website show Vacmasters systems mounted on American trucks. Vacmasters systems sold in NZ are mounted on locally available trucks.